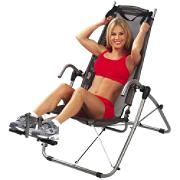 1. After much online research, I purchased an Ab Lounge Ultra at Sears for $99.99 ($169.99 most places).  I have started back at Slender Lady on Hawkins but I wanted something that would do more to target my abs (thanks to having two children and not listening to my midwife's advice to do lots of sit-ups in the weeks after my girls were born).
This product had rave reviews and I was even able to find several very positive reviews by people who have fibromyalgia.  I had to drive to the Sears at South Point to get this particular model for this price, but I am so glad I did.  I can feel that it is working without feeling too sore.  I was able to make it to 80 reps tonight but then Leah told me I was finished.  I thought it would hurt her feelings if I didn't listen so of course I had to stop. 🙂
Best of all…I have lost 4 pounds in the past week. 
2.
WellPatch Migraine Cooling Therapy Pads are one of my absolute favorite products.  My wonderful husband went out after 8 last night to find these for me.  We can't always find them so I was extremely grateful when he came home with two boxes.  I have had a headache for over a week now.  It gets better and worse, but it never completely goes away.  I took 2 Imitrex yesterday and except for letting me sleep for an hour, they really didn't help.  By 8, I was in tears and at my wit's end.  The first cooling pad felt good but didn't give me complete relief.  I put a new one on around midnight and was finally able to sleep.  These are so wonderful.  If you suffer from headaches, I encourage you to give them a try.   
The link above will take you to the company's website and all the official information about what they are and how they work. 
3. Carolina Cake Truffles from Amy's Confection Company
Yeah, yeah…it makes no sense that I would include exercise equipment and sinful chocolate in the same post.  So sue me.  They make working out worth it. 
You can read the Carolina Cake Truffle Story on Amy's blog.  You can read Lindsay's account of our first taste of a Carolina Cake Truffle on her blog.
Our children aren't allowed to have their ears pierced until we think they are responsible enough to take care of their ears and their earrings themselves.  Likewise, they are not allowed to have a Carolina Cake Truffle until I think they can truly appreciate how exceptional they are.  These babies are not to be wasted!
If you are not lucky enough to live in Sanford, never fear!  You can order YOUR Carolina Cake Truffles online!  You won't regret it! (well…if you get addicted, you might regret the repeat charges on your credit card, but you only live once!).
Note to my Far Away Sister…remind me before you come here next and I will buy you some.  You will LOVE them!
4.
I LOVE this movie and FINALLY own the DVD…which I am watching right now.  LOVE. IT.